Whether a new construction or a renovation, the most important architectural projects are always those where the detail is the main character. Bringing a major building in Madrid's financial and business centre back to life, the designers have decorated every last detail of the façade, and part of the interior.
The project includes both a renovation of the building's exterior façade, from the ground floor to the roof top, and a redesign of the building's interior where new cladding materials have been applied.
The repairs in this phase of the project were developed with the purpose of modernising the buildings' external image, using Corian® in Glacier White colour.
This original granite façade, explains Iñigo Ortiz, "stays completely in disguise behind the Corian® skin that had totally changed perception of the building itself making it look white and clean – while also allowing smooth evacuation of rainwater since it is subtly positioned over of the original structure".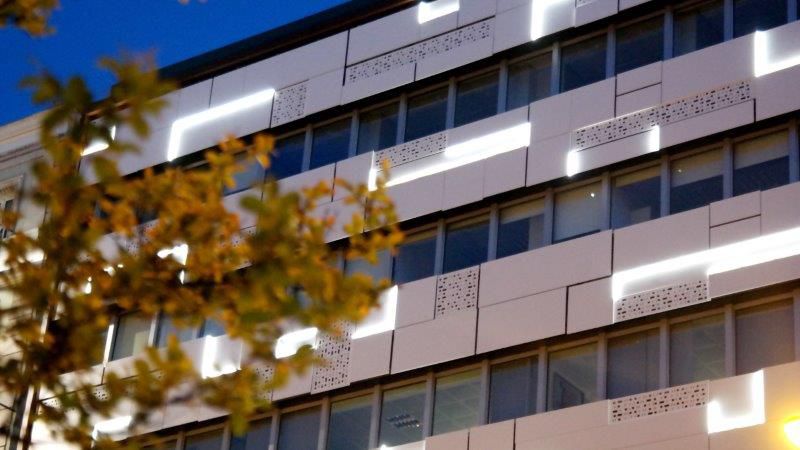 Facade with the LEDs
The LEDs are hidden behind Corian® panels when the night falls. Below, architects' hand-made sketches of pillar access luminaries.
Reception desk in Corian® in the main hall of the building.
Its ability to be molded and backlit allowed to make it accessible for disabled people and using LEDs to highlight the inscription on the lower right hand side.
Corian® can be machined and personalized, which has allowed the architects to perforate some of the panels (which are made of 90 by 45cm pieces of material). By doing this, the architects have sought to change the texture of the façade, which helps to give it an iconic look: rich and very characteristic of the design itself. This decision also gave the architects the opportunity to play with illumination. Behind each of the Corian® panels there are hidden LED strips.
As a complement to the 'main act', Ortiz León Architects have also designed a kind of visual needlework that turns the façade into a floating body - an effect that has been achieved using lacquered aluminum perimeter tape which imitates Corten steel and surrounds pieces of Corian®.
A renewed interior
The interior renovation covers around 400m2 of floor space. The floor and walls on these levels were improved with the introduction of materials such as anodized aluminum on some walls, textured glass in front of lift areas, and a special filament carpet in the entrance area.
The original lobby furniture was also replaced. Ortiz León opted once again for Corian® to create a reception desk. This desk has one part lower than the rest of it, making it completely accessible to people with disabilities.
Both of these furniture pieces have invisible spaces designed for storage and to hide all cables, which were previously visible, and ruined the first impression as visitors entered the building. Thanks to the design possibilities allowed by Corian®, an enscription has been perforated on the reception furniture and illuminated from the inside to highlight the writing.